EOCCO Clinics & Staff,
Welcome to the May issue of the EOCCO Monthly Newsletter. Below is a preview of the articles you will find in this month's issue:
New SDoH Initiative for EOCCO & Summit Health Members
Language Access Reporting
Hepatitis Awareness Month
Upcoming Trainings
The Oregon Health Authority Telephone Survey
COVID-19 Vaccine Updates
Timely Access to Care Survey
Language Identification Cards>
Please let us know if you have any questions, concerns or recommendations. We would love to hear from you!
Please contact: Kelly Watanabe at kelly.watanabe@eocco.com
Thank you,
Your EOCCO Team
---
New SDoH Initiative for EOCCO & Summit Health Members
Starting in late May, EOCCO will be participating in a CMS-funded grant under the Accountable Health Communities> (AHC) initiative. Our partners at Oregon Health & Sciences University (OHSU) will be administering the AHC Screening Tool to a portion of the patient population to gather information about needs related to housing, food, transportation, utilities, and safety. This project will allow us to collect information on key social needs among our membership and use this data to better serve our members.
Please don't hesitate to reach out to the Quality team at eoccometrics@modahealth.com with any questions about this project.
Extended Due Dates for Language Access Report
Due dates for the quarterly Language Access Report have been extended (see below).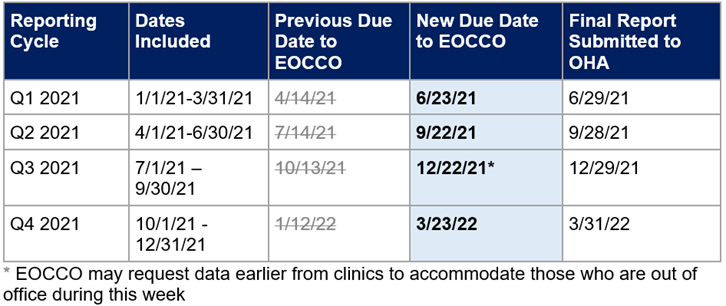 As a reminder, the Language Access Report is a new contract requirement introduced in 2020, which collects data on every patient visit that requires interpretation services (including when a staff member provides interpretation, or if a patient declines services). This report supports statewide health equity efforts to improve language access for members with limited English proficiency (LEP). For questions please reach out to eoccometrics@modahealth.com.
According to the CDC Hepatitis C is the most commonly reported bloodborne infection in the United States, and surveys conducted during 2013–2016 indicated an estimated 2.4 million persons (1.0%) in the nation were living with hepatitis C. The reported number of cases in any given year likely represents less than 10% of the actual number of cases because of under-ascertainment and underreporting.
In 2020 the CDC estimates just over a 1.5% prevalence of Hepatitis C positivity among all adults in Oregon.
In 2020, CDC updated recommendations for Hepatitis C screening to include:
All adults ages 18 – 79 years of age.
All pregnant women during each pregnancy
People with ongoing risk factors, while risk factors persist
Any person who requests Hepatitis C testing, regardless of disclosure of risk
EOCCO invites Primary Care and OB/GYN providers to participate in a short survey to assess the occurrence of routine screening and to assess any barriers in screening or treatment.
Upcoming Trainings
Vaccine Confidence: Choosing Messages and Messengers to Bolster Community Immunity
The Oregon Health Forum will host a webinar to discuss the positive ways to drive the vaccine conversation. Join expert speakers as they share proven polices, resonant messages and credible messengers for improving vaccine acceptance.
Tuesday, May 25, 12pm - 1:30pm
Register here for the free Zoom livestream.
Family-centered resources to support well-child visits webinar
This webinar will highlight family-centered resources for OHP parents of young children (ages 3 to 6) to promote their children's wellness during this unprecedented time. The scan was designed to support CCOs in meeting the OHA CCO incentive metric focused on kindergarten readiness and well-child visits. Intended for health care providers, pediatric offices, community-based organizations, and CCOs.
Tuesday, June 29, 12‒1 p.m.
Register here or contact Adrienne Mullock (Adrienne.P.Mullock@dhsoha.state.or.us) for additional information.
Diabetes Metrics Toolkit Webinar
Apply quality improvement frameworks and tools for measurable change in diabetes, HBA1C poor control and oral health evaluation for adults with diabetes. Walk through how to use the new toolkit in primary care and dental clinical settings.
Tuesday, June 22, 12-1 p.m.
Register here or contact: Laura Ferrara (ORPRN_TA@ohsu.edu) for additional information
Virtual Learning Collaborative: COVID Vaccines for Clinics
The OHA Transformation Center, in partnership with the OHA Vaccine Planning Unit, is hosting a learning collaborative for clinics newer to COVID immunizations to learn from subject matter experts and health center peers. This covers topics such as operational workflows, allocations, targeting high risk populations, vaccine hesitancy and more.
Register here: Friday, May 28, 12‒1 p.m. , Friday, June 11, 12‒1 p.m., or Friday, June 25, 12‒1 p.m.
Contact: Bernadette Nativo (Bernadette.Nativo@dhsoha.state.or.us) for additional information.
REALD Office Hours for Phase 2 Providers
OHA will hold REALD office hours to answer questions from phase 2 providers about Race, Ethnicity, Language, and Disability (REALD) data collection and reporting requirements during health care encounters for COVID-19.
Register for Friday, May 21, 2‒3 p.m. or Thursday, June 24, 2‒3 p.m.
See the OHA website for more information on phase 2 providers or REALD Implementation.
The Oregon Health Authority Telephone Survey Audit
The Oregon Health Authority (OHA) and its Medicaid auditing partners known as Health Services Advisory Group, Inc. (HSAG), will conduct a secret shopper telephone survey soon. The survey will include primary physical health care and dental care providers who are contracted with EOCCO. These calls will take place June 18, 2021 through July 23, 2021.
A secret shopper is a person employed to pose as a patient to evaluate the quality of customer service or the validity of information (e.g., accurate location information). The secret shopper telephone survey's purpose is to:
Collect objective data from healthcare providers without potential bias introduced by knowing the identity of the surveyor.>>
Collect information about appointment availability for EOCCO members new to the provider and requesting routine well-checks or non-urgent problem-focused ("symptomatic") visits.>>
Call to Action: Please ensure that all new or existing staff are aware of access to care and scheduling policies for EOCCO members. Here is a summary of the access to care standards as defined by the OHA:
Physical Health:
Emergency Care: Immediately or referred to an emergency department depending on member's condition
Urgent Care: Within 72 hours or as indicated in initial screening and in accordance with OAR 410-141-3840
Well Care: Within four weeks, or as otherwise required by applicable care coordination rules, including OAR 410-141-3860 through 410-141-3870.
The EOCCO Provider Manual also outlines this information on page 57. If you have any questions or concerns, we are happy to help you, just please reach out to Kelly Watanabe at Kelly.watanabe@eocco.com.
COVID-19 Vaccine Updates>
All members who are over the age of 12 are now eligible to get the COVID-19 vaccine in Oregon. For more information, please visit Oregon's vaccine news page. You can also check out OHA's frequently asked questions about the COVID-19 vaccine for 12 to 17-year-olds.>
For a list of local pharmacies that currently carry the COVID-19 vaccine, please see our English and Spanish flyers on our website.
EOCCO Timely Access to Care Survey
An email was sent out earlier this week for primary care and specialist clinics to complete our Timely Access to Care Survey. As required by the Oregon Health Authority, EOCCO must monitor its network and access to care. EOCCO will send this survey out twice in a year; our last survey was conducted in December of 2020 and we are asking for your participation again now. This will help us identify member wait times for both getting an appointment and wait time in the provider's office.
Please click here to complete the survey.
Language Identification Cards
EOCCO has posted Language Identification Cards on the Providers Manual & Guidelines page. These cards are designed to assist providers and staff to quickly identify a member's preferred spoken language and to contact an interpreter. Along with the various types of language cards, you will also find more information on how to utilize this tool as well as printing instructions.>
Questions?