Other formats
You can get any form, flyer or document from us in a different format. You can ask for another language, large print, a computer disk, audio tape, spoken presentation or Braille. This is free of cost and you will get it within five business days.
If you request an electronic copy of our member handbook or any other documents, Customer Service will ask for your permission to email that to you. Your email address will only be used with your permission.
Please call EOCCO Customer Service at 1-888-788-9821. TTY users, please call 711. The office is open Monday through Friday, 7:30 a.m. to 5:30 p.m. PST.
EOCCO Member Handbook
Your EOCCO Member Handbook gives you important information about your plan. Please see your Member Handbook or contact us if you have any questions.
To listen to audio files of the Member Handbook in English, please download this zip file and select the page you'd like to hear.
EOCCO member ID card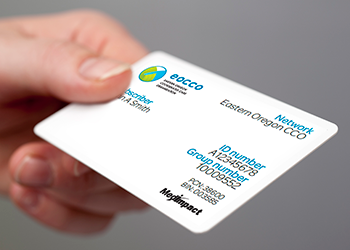 As a member of EOCCO, you will receive an EOCCO ID card. This card identifies you as an EOCCO member and has other important information on it. It tells you what to do in an emergency and lists EOCCO Customer Service phone numbers. Please show your EOCCO member ID card when you see your doctor or pharmacy.
Change your PCP
Use this form to change your primary care provider (PCP).
Oregon Eligibility (ONE) Applicant Portal
Visit OregONEligibility to apply for the Oregon Health Plan (OHP), renew coverage or report any household changes.
Transition of Care
If you are new to EOCCO and have major health problems, EOCCO will work with your old CCO or OHP to make sure that you get the care and help you need. For more information about Transition of Care, please see our policy.
Health assessment
If you are new to EOCCO, please fill out the Health Assessment form below. Your answers will help us learn more about your healthcare needs and connect you with services to help you be healthy. If you filled out this form within the past six months, you do not have to fill it out again.
Useful links:
Programs
Health coaching for quitting tobacco
You can get a health coach to help you quit tobacco use. Coaching is available at no cost. Tools and services are included in the program to help you make healthy choices and take care of yourself. To contact a tobacco quit coach, call:
EOCCO Health Promotion and Wellness
1-877-277-7281
Email: careprograms@eocco.com
Hours: Monday through Friday, 7:30 a.m. to 5:30 p.m. PST
TTY users, please call 711
Helpful tools & tips for quitting tobacco:
Glossary
Classes
EOCCO classes can help members learn how to manage their medical and behavioral health conditions.
FREE Online Pain School for EOCCO Members
This class is intended to help individuals better understand chronic pain, increase confidence in dealing with pain, and provide a range of options to consider for treatment.
The program is full of useful tips, techniques and resources to get you moving down the path toward feeling more in control and hopeful despite living with pain. Each session lasts one hour and includes downloadable documents that will be completed in class throughout the four-week program.
Schedule:
2020 Class Dates
May 5, 12, 19 & 26
June 9, 16, 23 & 30
September 8, 15, 22 & 29
October 6, 13, 20 & 27
November 3, 10, 17 & 24
2021 Class Dates
January 5, 12, 19 & 26