General resources
Other formats
You can get any form, flyer or document from us in a different format. You can ask for another language, large print, a computer disk, audio tape, spoken presentation or Braille. This is free of cost and you will get it within five business days.
If you request an electronic copy of our member handbook or any other documents, Customer Service will ask for your permission to email that to you. Your email address will only be used with your permission.
Please call EOCCO Customer Service at 1-888-788-9821. TTY users, please call 711. The office is open Monday through Friday, 7:30 a.m. to 5:30 p.m. PST.
EOCCO Member Handbook
Your EOCCO Member Handbook gives you important information about your plan. Please see your Member Handbook or contact us if you have any questions.
To listen to audio files of the Member Handbook in English, please download this zip file and select the page you'd like to hear.
Para escuchar los archivos de audio del Manual del Miembro en español, descargue este archivo zip y seleccione la página que desea escuchar.
EOCCO member ID card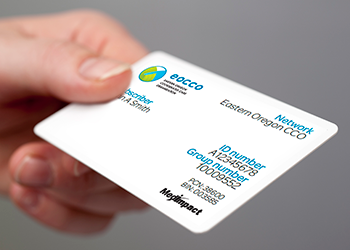 As a member of EOCCO, you will receive an EOCCO ID card. This card identifies you as an EOCCO member and has other important information on it. It tells you what to do in an emergency and lists EOCCO Customer Service phone numbers. Please show your EOCCO member ID card when you see your doctor or pharmacy.
Change your PCP
Use this form to change your primary care provider (PCP).
Oregon Eligibility (ONE) Applicant Portal
Visit OregONEligibility to apply for the Oregon Health Plan (OHP), renew coverage or report any household changes.
Transition of Care
If you are new to EOCCO and have major health problems, EOCCO will work with your old CCO or OHP to make sure that you get the care and help you need. For more information about Transition of Care, please see our policy.
Health assessment
If you are new to EOCCO, please fill out the Health Assessment form below. Your answers will help us learn more about your healthcare needs and connect you with services to help you be healthy. If you filled out this form within the past six months, you do not have to fill it out again.
Early and Periodic Screening, Diagnosis and Treatment (EPSDT) of Members Under Age 21
With a referral, all children under age 21 can get services at no cost for medically appropriate comprehensive diagnosis and treatment. For more information please see our EPSDT policy.
Traditional Health Workers (THWs)
EOCCO covers Traditional Health Worker services. Traditional Health Workers work with healthcare providers to help a community or clinic. Their job is to make sure members are treated fairly. There are five specialties, including:
Birth Doula: Provides personal and nonmedical support to women and families through pregnancy, childbirth, and postpartum experience.
Community Health Worker (CHW): Helps you navigate the health system.
A CHW helps you start healthy behaviors and usually shares ethnicity, language, or life experiences.
Peer Support Specialist (PSS): Provides support services to help you recover from addiction or mental health conditions.
Peer Wellness Specialist (PWS): Someone who has experienced psychiatric conditions. They can help you recover from addiction, mental health, or physical conditions.
Personal Health Navigator (PHN): Provides information, tools, and support to help you make the best healthcare decisions.
To find a THW, talk to your primary care provider or contact our THW Liaison:
Kathryn Hart
kathryn.hart@eocco.com
(503) 265-4727
Useful links:
Programs
Emergency internet service
You can get a $50 monthly discount on internet service during the pandemic from a new federal program. A household can get help paying for internet if anyone in the household qualifies. If you are already enrolled in Oregon's Lifeline program, you can get this new benefit too. For more information visit: https://www.fcc.gov/broadbandbenefit
There are three ways eligible households can apply:
Contact your preferred participating internet provider to learn about their application process.
Go to GetEmergencyBroadband.org to apply online and to find participating providers near you.
Call 833-511-0311 for a mail-in application, and return it along with copies of documents showing proof of eligibility to:
Emergency Broadband Support Center
P.O. Box 7081
London, KY 40742
Oregon emergency rental assistance program
Oregon's eviction moratorium ends this month (June 30, 2021). This means that if you don't pay July rent, you could be evicted.
If you need help paying July rent, apply for rent assistance through the Oregon Emergency Rental Assistance Program. This program can also cover back rent due and up to 3 months of future rent.
Don't wait! Find out if you qualify and apply online today: https://www.oregonrentalassistance.org/
If you are struggling financially due to the COVID-19 pandemic, you may qualify.
You may qualify if:
You live in Oregon
You currently get unemployment (or got it in the past)
You lost income because of COVID-19
Your expenses went up because of COVID-19
You are at risk of eviction
You can apply no matter your citizenship or immigration status. Applying will not impact any other assistance you receive, including food stamps (SNAP), WIC, Oregon Health Plan or Medicare, social security, or public housing.
Health coaching for quitting tobacco
You can get a health coach to help you quit tobacco use. Coaching is available at no cost. Tools and services are included in the program to help you make healthy choices and take care of yourself. To contact a tobacco quit coach, call:
EOCCO Health Promotion and Wellness
1-877-277-7281
Email: careprograms@eocco.com
Hours: Monday through Friday, 7:30 a.m. to 5:30 p.m. PST
TTY users, please call 711
Helpful tools & tips for quitting tobacco:
Diabetes Self-Management
You can get a health coach and personalized program to help you manage your diabetes. Tools and services are included in the program to help you make healthy choices and take care of yourself. The program is offered at no cost to EOCCO members ages 18 years and older with type 1 or type 2 diabetes. To enroll, call
Livongo
1-800-945-4355; TTY:711, or
Visit GetStarted.Livongo.com/EOCCO; registration code: EOCCO
Download Diabetes Self Managemenet Brochure to learn more.
Glossary
Classes and Trainings
EOCCO classes can help members learn how to manage their medical and behavioral health conditions.
FREE Online Pain School for EOCCO Members
This class is intended to help individuals better understand chronic pain, increase confidence in dealing with pain, and provide a range of options to consider for treatment.
The program is full of useful tips, techniques and resources to get you moving down the path toward feeling more in control and hopeful despite living with pain. Each session lasts one hour and includes downloadable documents that will be completed in class throughout the four-week program.
EOCCO's Free Advanced Directive Training
Thinking about advanced healthcare wishes for yourself or a loved one?
EOCCO's Advance Directive online training teaches you how to talk with loved ones about your wishes and choose a person to make healthcare decisions for you if you can't.
Register today for one of the following training dates:
Reducing Emergency Department Utilization